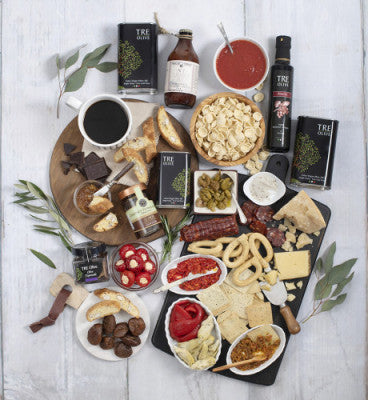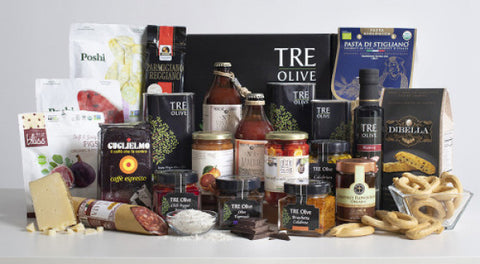 TRE Olive
Mille Grazie Gift Box
Mille Grazie (a thousand thank yous) - which is exactly what you'll receive when you give this gift! This gift box is an amazing assortment of Italian specialty items that will impress any recipient. This gift box won't just impress them, it will WOW them! Makes a great gift for clients, employees and friends or as a sympathy gift. 
Includes: 
- Two 500ml tins of TRE extra virgin olive oil
- 250ml tin of flavored olive oil
- 250ml bottle of Riserva Balsamic Vinegar
- Calabrian Olives (280 g)
- Crostini
- Parmigiano Reggiano
- Caputo Brothers Provola Riserva
- Hot Sopressata
- Three of our delicious spreads
- Marinated artichokes
- Roasted Red Peppers in Olive oil
- Taralli
- Pepper stuffed with cacioricotta in olive oil
- Organic Pasta (1.1 lb)
- 2 jars of Perche ci Credo pasta sauce
- Dried Organic Figs
- Jar of organic Italian Honey
- Truffle Salt
- Jar of Sicilian Jam
- Italian Biscotti
- Bar of chocolate
- Guglielmo Espresso
Substitutions: We do our best to keep the product discription updated but reserve the right to substitute products of equal or greater value.  
Note: Cheese & Sopressata are vacum sealed and shelf stable but should be refridgerated after opening.