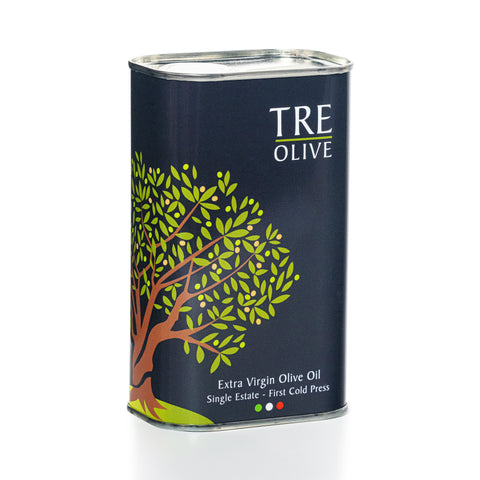 TRE Olive
Extra Virgin Olive Oil Tin - 500ml
Select your 500ml tin from:
- Primo: made before the olives begin to ripen, creating a green, robust and peppery oil.
- Early Harvest Press: made when the olives begin to ripen. Slightly sharp with a golden-green color.
- Signature Estate: made from riper olives, which creates a golden oil with a smooth buttery flavor.
- Lemon: we crush fresh lemons grown on our estate with ripe olives to create a beautifully balanced oil with citrus flavor.
- Chili Pepper: made with Calabrian grown Chili Peppers this oil has a slight kick for those who like a little heat.
- Garlic with a slight garlic flavor, great for dipping, finishing, marinating or cooking.
Family owned and operated - 100% Italian extra virgin olive oil from our groves in Calabria. These olive oils are made from olives grown, picked, pressed and poured in Italy. How do we know this? We not only own the olive trees, we also own the mill where the olives are pressed and poured into the tins. We never outsource, so we know that our olive oil is 100% Italian, extra virgin and first cold press.
500ml Tin
Extra Virgin
First Cold Press
Variety - Carolea