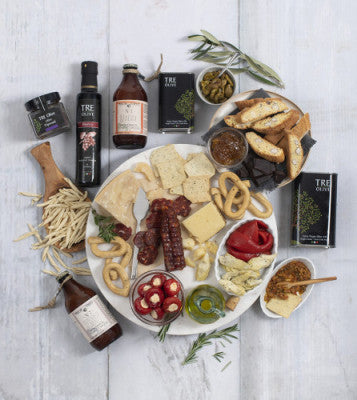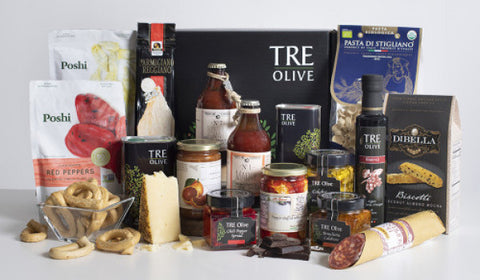 TRE Olive
Cena Gift Box
With the Cena Gift Box, you'll have everything you need to make a wonderful Italian dinner for friends and family! Create a beautiful cheese and charcuterie board and snack on a selection of Italian specialties... then make a delicious pasta dinner.  Buon Appetito!  It also makes a great gift for clients, employees and friends or as a sympathy gift. 
Includes: 
- 500ml tin of TRE extra virgin olive oil
- 250ml tin of flavored olive oil
- 250ml bottle of Riserva Balsamic Vinegar
- Calabrian Olives (280 g)
- Crostini
- Parmigiano Reggiano
- Classic Bistro Salami
- Hot Sopressata
- Two of our delicious spreads
- Marinated artichokes
- Roasted Red Peppers in Olive oil
- Taralli
- Pepper stuffed with cacioricotta in olive oil
- Organic Pasta 
- 2 jars of Perche ci Credo pasta sauce
- Jar of Sicilian Jam
- Italian Biscotti
- Bar of chocolate
Substitutions: We do our best to keep the product discription updated but reserve the right to substitute products of equal or greater value.  
Note: Cheese & Sopressata are vacum sealed and shelf stable but should be refridgerated after opening.