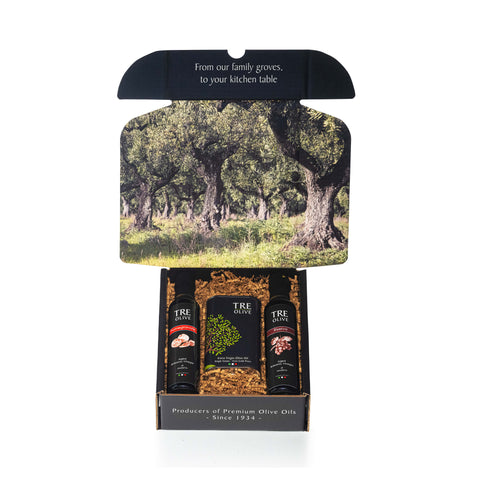 TRE Olive
Auguri
The Auguri gift box contains a 500ml tin of our extra virgin olive oil together with two 250ml bottles of balsamic vinegar. 
Includes your choice of a 500ml tin of the following olive oils.
Signature Estate
Early Harvest
Primo
Lemon
Chili Pepper
and your choice of two 250ml bottles of the following balsamic vinegars.
Riserva
Blueberry Balsamic
Peach Balsamic
Raspberry Balsamic
Fig Balsamic
Black Walnut Balsamic
Pomegranate Balsamic
Strawberry Balsamic
Cherry Balsamic
White Balsamic
Lemon White Balsamic
Coconut White Balsamic